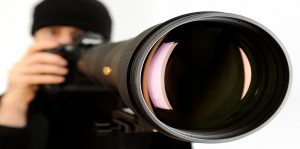 Surveillance is alive and well and is being used more frequently than ever by employers and insurers in  Florida workers' compensation cases, particularly in light of the current economic climate. IF SURVEILLANCE CATCHES YOU, THE VALUE OF YOUR CASE WILL SIGNIFICANTLY DECREASE OR VANISH!
Private investigators often conduct surveillance when injured workers have doctors' appointments. This allows then to properly identify the injured worker, verify the vehicles he or she owns, verify the injured worker's place of residence and his or her level of activity.
When a new case is assigned to an investigator, the adjuster will typically let the investigator know why the surveillance is being conducted and what activities he or she thinks the injured worker is engaging in.
If an investigator is unsuccessful in finding an injured worker either engaging in activities that exceed his or her physical restrictions or working and earning money while collecting workers' compensation benefits, the surveillance will often be repeated weeks or even months later, with the hope that the investigator will "find something" the second time around.
Investigators attempt to be creative. They don't just work from 9 to 5! They will work on weekdays and weekends. They also work at night.
Your co-workers may be useful resources to your employer, particularly if they tip off the employer about the location of your favorite fishing hole or hunting spot. Ex-spouses have been known to furnish damaging information to employers and insurers as well. Don't talk to others about your daily activities.
Even if you live in the country or on property where your nearest neighbor is miles away, a good investigator can and will find you.
Surveillance is frequently used by employers and insurers just before they get ready to settle high dollar cases. They want to be certain that an employee is not working and is really injured as seriously as the medical records reflect.
Injured workers should always limit their physical activities to stay completely within the authorized treating physician's restrictions. This includes being particularly careful not to carry heavy groceries, participate in sporting events, make car repairs or work on the exterior of their homes.
Injured workers should not earn any income, no matter how small the amount, when they are receiving weekly benefit checks or it is considered to be fraud. This includes performing odd jobs like babysitting or cutting grass.